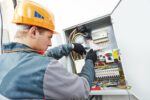 Description
Licensed distributor for building energy management and monitoring systems and components is selling his license and existing inventory at a steep discount. Work with SMEs, Facilities Managers, Property Managers, Utilities and Energy Brokers throughout Texas and throughout the US to help them reveal energy usage and waste, allowing for cost reductions and predictive maintenance; and with the recent addition of a suite of IoT products you can also help them optimize their operations.
Perfect additional revenue stream and business expansion for existing electrical contractors. Perfect entry for independent master electricians seeking their own business. Help clients Identify & Manage Energy Waste; cut Business' Energy Consumption; and Introduce Smart IoT Technology. These systems record data in real time, from which automated reports are created that helps communicate changes in their energy consumption trends to customers and the investment community.
Non-exclusive distributorship territory for international manufacturer of energy management components. Sell anywhere in the U.S. No special warehousing required; no special tools required. Reason for selling is to pursue other opportunities. Seller financing available. Inventory included in price.